200 Hours Yoga Teachers Training in Nepal
Start date: 1st of every month    End date: 21st of same month    Cost: 1400 USD (shared), 1600 ( private) room    Group size: 25 ( Max)
Nepal Ayurveda Home has been offering various programs of yoga, meditation, Ayurveda, and therapy. In order to discover the teachers within, it organizes "200 Hours Yoga Teachers Training in Nepal" in Kathmandu. The course is open for all the people of the world without any restriction of flexibility, age, religion, belief system, etc. Either you want to learn yoga for yourself or want to be a professional yoga teacher; this course is suitable for all. If you are a beginner, then the course acts a medium to get entry into the yogic world for learning yoga and becoming a yoga teacher.
You will be guided individually for your better learning. Your each and every curiosity is solved here. If you are a regular or occasional practitioner, "200 Hours Yoga Teachers Training in Nepal" lets you understand a broader dimension of yoga. Even yoga teachers and yoga experts come here to update their knowledge of yoga. The wisdom is unlimited, never ends. This course is very beneficial for achieving newer and advanced knowledge of yoga.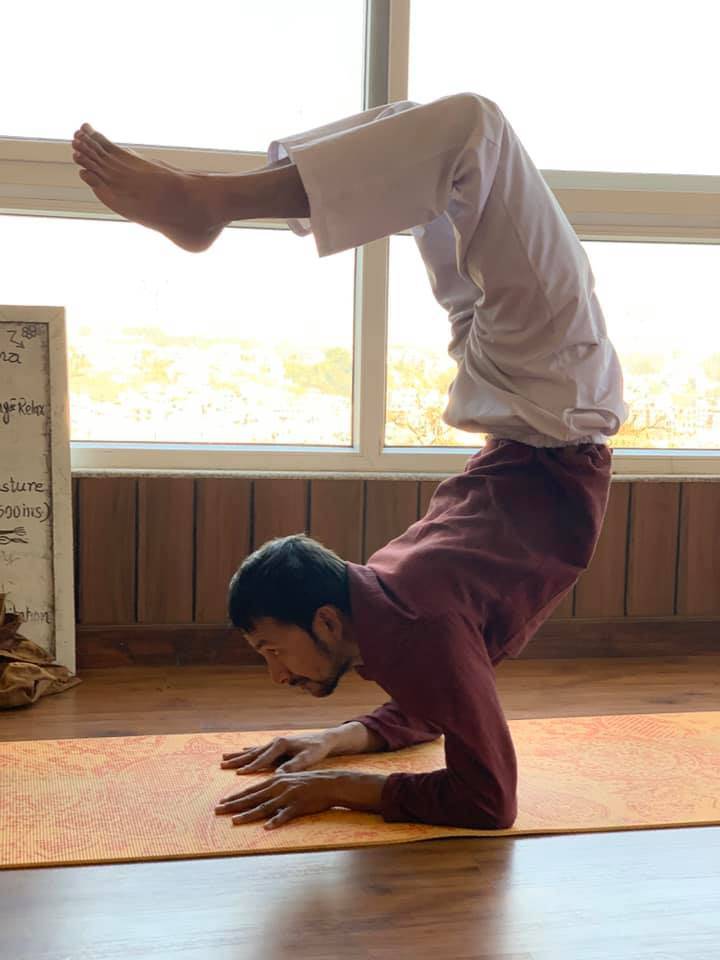 Why Do We recognize As The Best Yoga Instructor?
Nepal Ayurveda Home is located in a peaceful area which is the heart of the Kathmandu valley. It has all the facilities for the excellent practice and learning of yoga. Its serenity and beauty enthuse the practitioners for learning efficaciously. The following are the special features of Nepal Ayurveda Home for its Excellency:
1. Better Learning Environment With Experienced Teachers 
Since Nepal Ayurveda Home is designed for yoga and Ayurveda, it has all the facilities and equipment regarding yoga teachers training in Nepal. It has a spacious yoga hall with flower plants. You can choose rooftop yoga practice or practice on the ground floor.  Teachers are the experts of yoga who have done master degree in yoga and are internationally certified. They have devoted their lives to yoga and have a long experience of teaching. You can have an intimate relation with teachers to make the learning easier and effective. You can get personal guidance for better practice. All the queries related to yoga and meditation will be solved here.
2. Scientific And Internationally Matched Curriculum
The curriculum of "200 hours yoga teachers training in Nepal Ayurveda Home" is scientifically designed after long research. It gives wonderful effects on health and personal development. The course of study and practice is equated with international standard.  
3. International Certification 
Nepal Ayurveda Home is franchised with American Yoga Alliance, Indian Yoga Alliance, Australian Yoga Alliance, etc. After the completion of the course, you will be internationally certified as a yoga teacher. You can apply yoga and meditation for your own personal development and as a currier.  
4. Friendly Environment 
You will enjoy a friendly environment during your stay. You will find a harmonious relationship with all members and staffs of Nepal Ayurveda Home.  You will be served with all types of support that you require during the stay.   
5. Beautiful Place To Stay 
Nepal Ayurveda Home is situated in a serene location.  The beautiful gardens in the frontward and in the rooftop make the mind joyful. From the top of the building, various scenic views can be observed. Shackles of high green mountains encircling Kathmandu valley, snowy mountains, historical monuments, temples, ancient palaces, etc can be viewed from the top of the mountain.   The 360-degree view from the top of the building allows seeing the entire Kathmandu valley.  You will really enjoy a lot to stay here.
6. Better Opportunity And Facility For Visiting The Valley
Since it is at the center of the valley, visiting becomes favorable from here. There are many beautiful tourist spots, temples, heritages listed in world heritage index. So, many visitors and tourists stay here.  
7. Cozy Accommodation
It has an eight-floor building with 41 deluxe rooms, attached washrooms, comfy furniture, Wi-Fi services, temperature controller, laundry service, etc. It offers you a high standard of living to make your life comfortable.
8. Healthy and Delicious food 
Nepal Ayurveda Home tries to provide nutritious and natural ayurvedic food for better health. Vegetarian and vegan food are its main food. It also serves ayurvedic drinks, national food, cultural food, Nepali food, etc. If you have any other requirements inform to the office.    
What You'll Learn in This Yoga Teachers Training Course?
Yoga Philosophy, its origin, and principles

The concepts of manifold Yoga systems- Jnana Yoga (yoga of knowledge), Bhakti Yoga (yoga of devotion), Karma Yoga (Yoga of action), Mantra Yoga, etc.

Various systems of yoga- Ashtanga Vinyasa yoga, Power yoga, Yin Yoga, Sivananda Yoga, Iyengar yoga, etc.  

A theoretical and practical approach to yoga

Anatomy and physiology

Brief Ayurveda

Mind and yoga relation

Seven bodies and seven chakras

Patanjali Yoga Sutra

Around 200 yoga asana (postures)

Pranayama (breathing control)

Mudra (hand gesture)

Bandha (locking of energy from being wasted and transform it for a higher goal)  

Relaxation and Yoga Nidra (Yogic sleep)

Meditation and Awareness

Application of yoga for curing different diseases

Art of healthy life and health tips

Natural lifestyle- living with your own nature i.e. living becoming yourself, not becoming others

Natural lifestyle- art of being harmonious with nature and becoming in sync with existence.
This course proves to be one of the awesome moments of your life. You will feel your body stronger and more flexible as well as a great change in your psychology. You will feel lightness in your body and free from the bondage.  Yoga and meditation teachers training course in Nepal Ayurveda Home gives you all-round development and helps you in every step of life. It is helpful to achieve success in the physical world endowing better health and working efficiency. It is also a great path to get spiritual development and achieve self-actualization and self-realization.
Nepal Ayurveda Home 200-Hours YTT Course Curriculum
200-hours Yoga Teacher Training in Nepal has been providing through a scientifically designed curriculum by the expert group of yoga teachers. The subject matters of study are internationally matched, which is sufficient for you to be a qualified yoga teacher and teach throughout the world. The curriculum of yoga teachers training in Nepal is as follows:
1. Yoga Philosophy
The philosophy of yoga helps you to learn insightfully. There are some morals and ethics; by observing them your life becomes happier and healthier. Yoga philosophy makes the path of yoga clear from the beginning to the ultimate. This topic gives you the overall theoretical concept of yoga.  Under this topic, the following things are taught-
definition and explanation of yoga
A philosophy based on different scripture: Veda, yoga sutra, Bhagavad-Gita, Upanishads, Veda, Purana, etc.
origin and history of yoga
principles and foundations of yoga
aim and purpose of yoga
Eight branches of yoga: Yama, Niyama, Asana, Pranayama, Pratyahara, Dharana (concentration), Dhyan  (meditation), Samadhi (ultimate liberation
Importance and application of yoga
Ancient life, contemporary life, and yoga
Different traditions of yoga
Interesting information of  Pratyahara (control of sense organ)
 2. Asana
You will learn and practice over 100 asanas (yoga- poses) in correct alignment. You will learn Ashtanga Vinyasa deeply. Sivananda yoga, Power yoga, Yin yoga etc. are also practiced. You will learn to be mindful during the holding of asana. This helps you to strengthen mindfulness all the time. You will learn the basic concepts of all the modern form of yoga practices. Along with the yoga-asana, you will also learn Sanskrit name, English name, benefits, contraindication, proper breathing, awareness of different chakra, therapeutic benefits etc.After the completion of the course, you will also learn how to apply the asana in disease.
3. Pranayama
Pranayama is an art of breathing where you learn to control, master and monitor your breath. It also teaches consciousness on the breath. You will learn about 10 types of pranayama.
4. Mantra & Chanting
Mantra has its own special vibration. It has powerful effects to control the unstable mind.  Chanting the mantra has mental and spiritual benefits. You will learn here different types of Mantra from the original Vedic text. You will learn the following mantra-
Gayatri Mantra (mantra for Wisdom),
Sarve Bhawantu Sukhina (mantra for peace & happiness)
Om Asato Maa Sadgamaya
Om Tryambakam Yajamahe (mantra for healing and removing the fear of death)
Om Sahana vavatu (mantra for togetherness)
Bhajan Mantra – Hare rama, Hare Krishna
Bhakti Yoga Mantra-  Guru mantra
Bij mantra
Mulmantra
Sun salutation mantra
Moon Salutation mantra etc.
5. Mudra
Mudra is translated as "gesture" or "attitude". We can understand mudra with words like emotional, psychic, aesthetic gesture, devotional, etc. Mudra has a direct link with Annamaya Kosha, Manomaya Kosha, and Pranamaya Kosha. There are five groups of Mudra-
Hasta Mudra (hand mudras)
Mana (head mudras)
Kaya (postural mudra)
Bandha (lock Mudra)
Adhara (perineal mudra)
6. Yoga Detox
For physical and mental purification we offer an introduction and some practice of six yoga detox process. They are– Neti, Dhauti, Nauli, Basti, Trataka, and Kapalbhati. All these techniques are very helpful to create a healthy and strong body.
7. Bandha
There is a slight difference between Mudra and Bandha.  The Bandha is widely harmonized in Mudra, pranayama and in some of the asanas. The meaning of Bandha is to hold, lock, tense or tighten. The Bandha locks the prana and redirects it to the awakening of internal power (Kundalini) and Sushumna Nadi.  You will learn Bandh from the level of preparation, its benefits etc. Learn the important types of Bandha-  Mula Bandha, Jalandhara Bandha, Uddiyana Bandha, and Tri-bandha.
8. Relaxation
After yoga asana or physical works the body gets tired and needs scientific relaxation. There are some yogic techniques to get immediate relaxation through savasana and Yoga Nidra.
9. Meditation
Meditation is the most important aspect of spiritual upliftment. With the increased concentration, it helps to develop awareness, consciousness, and mindfulness. There are different techniques of meditation. You will learn them in 200-Hour Yoga Teacher Training at Nepal Ayurveda Home. Some of them are as follows
breathing meditation
vipassana meditation
Buddha style meditation
Swa- ham meditation
chakra meditation
mantra meditation
mindful meditation
guided meditation etc.
10. Life-Style
Life becomes meaningful when we live life being harmonious with our innate nature and possibilities. The 200-hour yoga teacher training teaches correct lifestyle and helps you to live with your true originality. It also teaches you a harmonious relationship with nature.
11. Yoga Anatomy
Understanding human anatomy and physiology helps to know about your body and effects of yoga on different parts of the body. It makes easier to identify the physical problems and other diseases and lay down correct methods to treat.Physical anatomy and spiritual yoga anatomy will be included in this course.
Spiritual anatomy: Subtle Anatomy, seven Chakras, seven bodies, Nadis, Energy bodies & Kundalini etc.
Physical Anatomy (The human skeleton, bones, muscle tissues, segments/joints its movement, circulation, respiration, digestion, excretion its function)
12. Teaching Practice and Methodology
You are given an opportunity to teach in the class so that you will develop teaching skills. You will be trained about the methods of teaching in the class, preparation of lesson plan, sequencing of yoga practices, Demonstration, Principles of demonstration, observation, assisting and correcting, a way of effective teaching etc. Each student will perform teaching practice under the guidance of the teacher.
Daily Schedule Of 200 Hours YTT
07:00 Yoga asanas (yoga posture)
08:30 breakfast
9:30 meditation/ breathing
10:30 free time, Sight-seeing, and other activities
13:00 Anatomy and physiology/ yoga philosophy and chanting
The sequence of posture/ Yogic relaxation and mantra chanting
14:00 Lunch
15:00 Self-practice
16:00 Textbook of yoga/ alignment, benefits etc
17:00 Tea break
17:30 Sequence of posture and relaxation
18:30 Dinner
20:30 Rest and sleep and study
This is a sample schedule it may change according to topic, subjects, teacher, climate and situations.
What's Included?
Accommodations
Yoga book
Daily yoga and meditation lessons
Yoga Alliance certified certificate
Daily meals during your training period
Tax and service charge
What Is Excluded?
Pick up and Drop off service from the airport (10 USD)
Hiking/ Trekking/ rafting/ mountain flight
Ayurveda course/ spa/ massage
Laundry
Personal Expenses
Sightseeing or sunrise trip
Additional food if required