Two Weeks Ayurveda Retreat at Nepal Ayurveda Home 
[Price: 1000 USD in Twin Room (Two same genders or couple), 1200 USD in Private Room]
Ayurveda has gained popularity in the recent past as being a holistic system for getting rid of all the incorporated bodily toxins from your body. With its newfound popularity – the treatment system that is more than millennia old – Ayurveda has been incorporated into practices of Yoga as a lifestyle medicine. But at Nepal Ayurveda Home we are out to prove that it is so much more than a practice which can be incorporated into yogic practice. At this "Two Weeks Ayurveda Retreat" we will guide you through some of the most austere, authentic and esoteric traditional practices of Ayurveda.
Ayurveda has persevered in the traditional practitioners, herb collectors, and passed down through oral and written traditions. Here at Nepal Ayurveda Home, we place you on the hands of experienced Ayurveda practitioners and healers to provide you with best Ayurvedic practices and procedures available so that you can be relaxed, relieved of stress, and holistically healed. This "Two Week Ayurveda Retreat" at Nepal Ayurveda Home is your escape route from the daily humdrum and melancholy of stressful lifestyle. Along with this, we prescribe genuine Ayurvedic practices – depending on your body type – to enhance your detox process and provide you with the best possible care.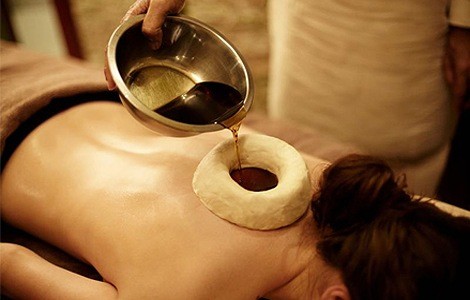 Nepal Ayurveda Home is also at an accessible location in Kathmandu – its heart "Thamel". Far from the humdrum of outer suburban areas, Thamel is the cultural center and tourist capital of Kathmandu (and the country). You get to enjoy the relaxing procedures like Shirodhara, panchakarma, vasti, Nasya, chakra healing, and Ayurvedic massages, along with the chance to be drenched in the esoteric cultural practices of Kathmandu valley. Relaxing procedures, cultural imbibing, alongside holistic healing – what more do you need to get maximal benefits out of this two weeks Ayurveda retreat? And Nepal Ayurveda Home is the place to be at for unlocking your Ayurvedic adventures.
Highlights of Two Weeks Ayurveda Retreat
Ayurveda classes from a trained Ayurvedic professional

Panchakarma procedure

Supplementary Ayurvedic procedures – Ayurvedic massages (Abhyanga), Chakra healing

Authentic Ayurvedic meals

Ayurvedic tea and Ayurvedic herbalism

Daily yoga and meditation practices according to your body type

Two-week accommodation – that can be extended

Daily mantra recitations and energetic vibration
Retreat Curriculum
Nepal Ayurveda Home is the place to be for every type of Ayurveda practices. Whether it be a singular practice or a multimodal practice – we live and breathe Ayurveda.
Ayurvedic doctor consultation
Every Ayurveda procedure begins with the doctors' consultation. A doctor examines you, determines your body type, guides you and prescribes you various practices and procedures according to your body type and ultimately guides you to complete and holistic healing. We at Nepal Ayurveda Home believe that everyone deserves the best there is, and we are motivated to provide you just that with this beautiful system of personalized doctoral care.
Determining your body constituency
The determination of your Ayurvedic body constituency is always an integral and initial practice in Ayurvedic healing procedures. This not only helps you (and us as well) in guiding your therapeutics and holistic healing. Practices like panchakarma, herbalism, and Ayurvedic cooking is dependent on this basic yet impactful tenet of Ayurveda. This results in determining the Vikriti – the pathological state that most of us are in – and which can be brought back to Prakriti.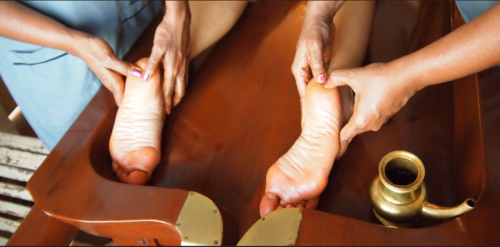 After the initial detox, then comes the practice of herbalism and healthy Ayurvedic food. These are very important after detox – some say even more important that detox. What type of oil to use? What type of food to eat? What type of diet plan to follow? How to heal in a proper way? These are some very important question and you can get them answered exclusively through Two Weeks Ayurveda Retreat at Nepal Ayurveda Home.
Ayurvedic massage – Abhyanga
Nepal Ayurveda Home believes in the healing power of the touch. As such we provide you with best possible Ayurvedic massages during your two-week stay. Get heal, enamored and imbibed within this power to healing through touch. Ayurveda massages (Abhyanga) are an integral part of every pre-detox procedure, however, the type and intensity of massage should depend on the receivers body type. With the best therapist and the "marma massage manifesto", you get the best results out of every Abhyanga.
Panchakarma procedure
Panchakarma should be practiced with caution. Numerous things are taken into account. From seasons to patients' age, from Vikriti to Prakriti – an Ayurvedic practitioner has to have meaningful knowledge in all these aspects of the receiver. Within this Two Weeks Ayurveda Retreat at Nepal Ayurveda Home, we hook you up with the best and most suitable Panchakarma procedures to ensure the best possible healing.
Panchakarma is five-part healing procedure consisting of medicated emesis (fancy word for vomit), purgation (fancy word for intestinal flushing), enema (needs no introduction), enrrhines (medicine through the nose), and bloodletting. These procedures are preceded by pre-panchakarma and are followed by post-panchakarma. Without these three procedural steps, no detox is complete.
Chakra healing according to Ayurveda
The concept of chakra is not new. The knowledge of chakras seems to have existed from the time of Upanishads (800BC) making them at least two millennia old. At Nepal Ayurveda Home we combine this esoteric knowledge and Ayurveda practices to provide you with the best possible chakra healing experience. From Shirodhara to numerous Vasti(s), stones to essential oil and meditations to mantras, we provide the best Ayurvedic chakra healing experience in town.
Chakra healing package – Shirodhara, Chakra vasti, Kati vasti, and Greeva vasti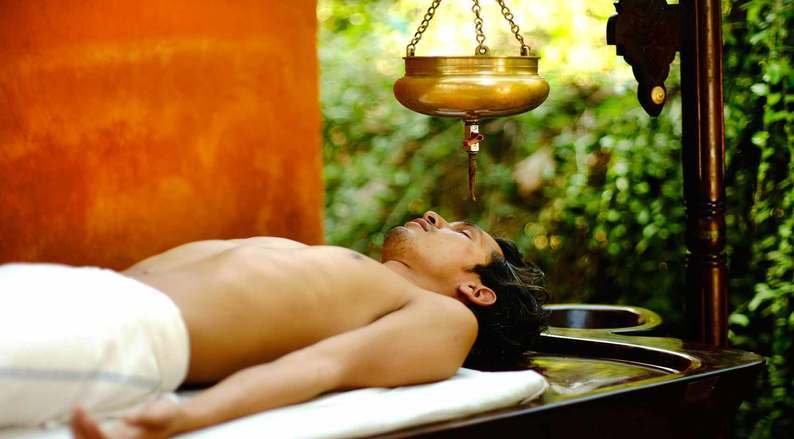 Shirodhara for your third eye chakra, chakra vasti for your navel chakra, Kati vasti for your sacral chakra and Greeva vasti for your throat chakra is the "essential" Ayurveda. It is healing, nourishing, and vitalizing for your chakra. Positive energy is infused with multi-herbal essential oil. Get your Chakra enlivened, empowered and electrified at Nepal Ayurveda Home.
Dincharya – Daily regimen according to your body type
Dincharya is the daily regimen (daily lifestyle) prescribed in Ayurveda. Practices like oil pulling, tongue scraping, self-abhyanga, and yoga practices are inherent in Ayurveda daily regimen practices. These are the best way to detox yourself at home and keep your daily routine in place with a conscience of Ayurveda. At Nepal Ayurveda Home we not only believe in hooking you up with best practices in Ayurveda but also providing you with the knowledge to keep yourself healthy.
Food prescription according to your body type

Herbal tea according to your body type, Ayurvedic herbalism
Drinking Herbal tea has been practiced since centuries in countries like Japan and China. Ayurveda literary figures in recent time have linked beneficial herbs described in Ayurveda with the art of drinking tea. This ensures your dosha stays in a balanced state every day of your life.
Our doctor will tour you through a nearby local herb shop and guide you through various local herbs that you can consume on a regular basis according to your body type. Himalayan herbs are infused with unparalleled potencies, so Nepal might be a place to get all of your herbal supplements.
Yoga, Pranayama, and Meditative practices according to your body type
With the mantra that "what heals you is the best yogic practice for you", at Nepal Ayurveda Home we have combined the knowledge and experience of some of the best yogis and Ayurvedic practitioners to formulate yoga, pranayama and mantra practice that is best for your body. Be a part of this unique experience exclusively in Two Weeks Ayurveda Retreat at Nepal Ayurveda Home.
At Nepal Ayurveda Home you not only get the ways around Ayurvedic retreat and herbalism but also a place where you can receive the most care, lovingness, and attention to details. Our doctors, staffs, and cooks ensure that what you receive is class apart and is of the highest standards.