Whole Day Massage & Spa in Kathmandu With Lunch
[Only  @ 99 USD]
---
We are very sure that You will really enjoy our Whole day Massage and Spa in Kathmandu With lunch With our expert team of Therapist.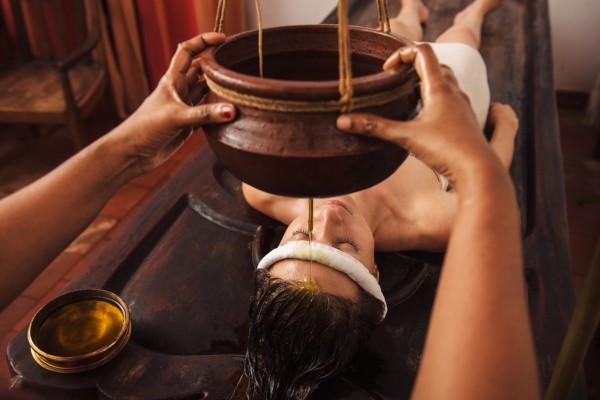 Massage is an experiment. It entails a therapist looking at a new body after each massage session. A body lying on a massage table also is changing with each stroke, each hit, and each molding of bodily muscles. Thus a therapist has to accommodate every pressure, every press, and every stroke according to the changing body type of the receiver.
In short, each massage is an experiment on the subtle human body. As such, the therapist has to be recognizing, reorganizing, and receiving to the needs of the receiver. Such services can be provided by selected few, and Nepal Ayurveda Home is one of such places in Kathmandu.
Come be a part of this "new" experience at Nepal Ayurveda Home where we offer you a whole Day Massage and Spa in Kathmandu that is surely going to be a riveting experience to your mind, body, and soul.
During the time of our full Day Massage and Spa in Kathmandu  you spend with us, you will firstly be receiving healing Ayurvedic massage, after the hourly session of massage you will be put into an herbal steam bath that is healing and lubricating to your joints and makes muscular tensions go away.
Combined with forty-five minutes of relaxing Shirodhara, an hour of Yoga according to your bodily preferences and a satisfying lunch this package offered by Nepal Ayurveda Home tickles your holistic harmony – between mind, body, and soul.
So your itinerary for the day will be as follows:
Ayurvedic massage – 60 minutes
Herbal steam bath – 15 to 20 minutes
Shirodhara – 45 to 60 minutes
Yoga class – 60 minutes
A delicious lunch at rooftop restaurant
An Hour of Ayurvedic Massage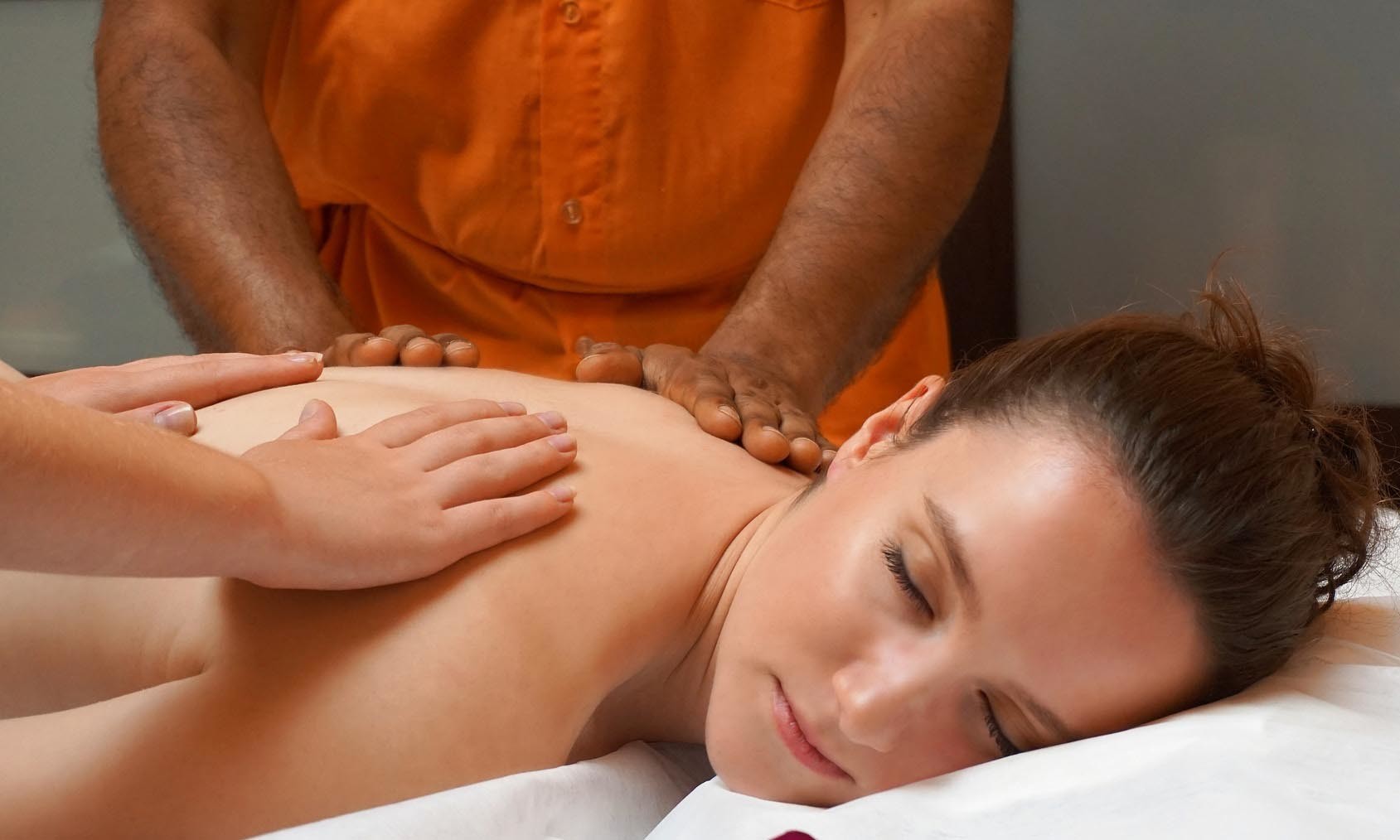 Massage requires a rapport building between our customers and our massage therapists. At Nepal Ayurveda Home we recognize this and listening to our clients we have selected some of the best hand in Kathmandu such that you have a pleasant or an invigorating experience – whatever might be your preference.
A good massage releases your emotions, heals your skin, drains your lymph, releases endorphin – the pleasant hormone, and heals your muscles and bones. Experience this exclusively at Nepal Ayurveda Home in our Whole day massage and spa in Kathmandu, Nepal.
Herbal Steam Bath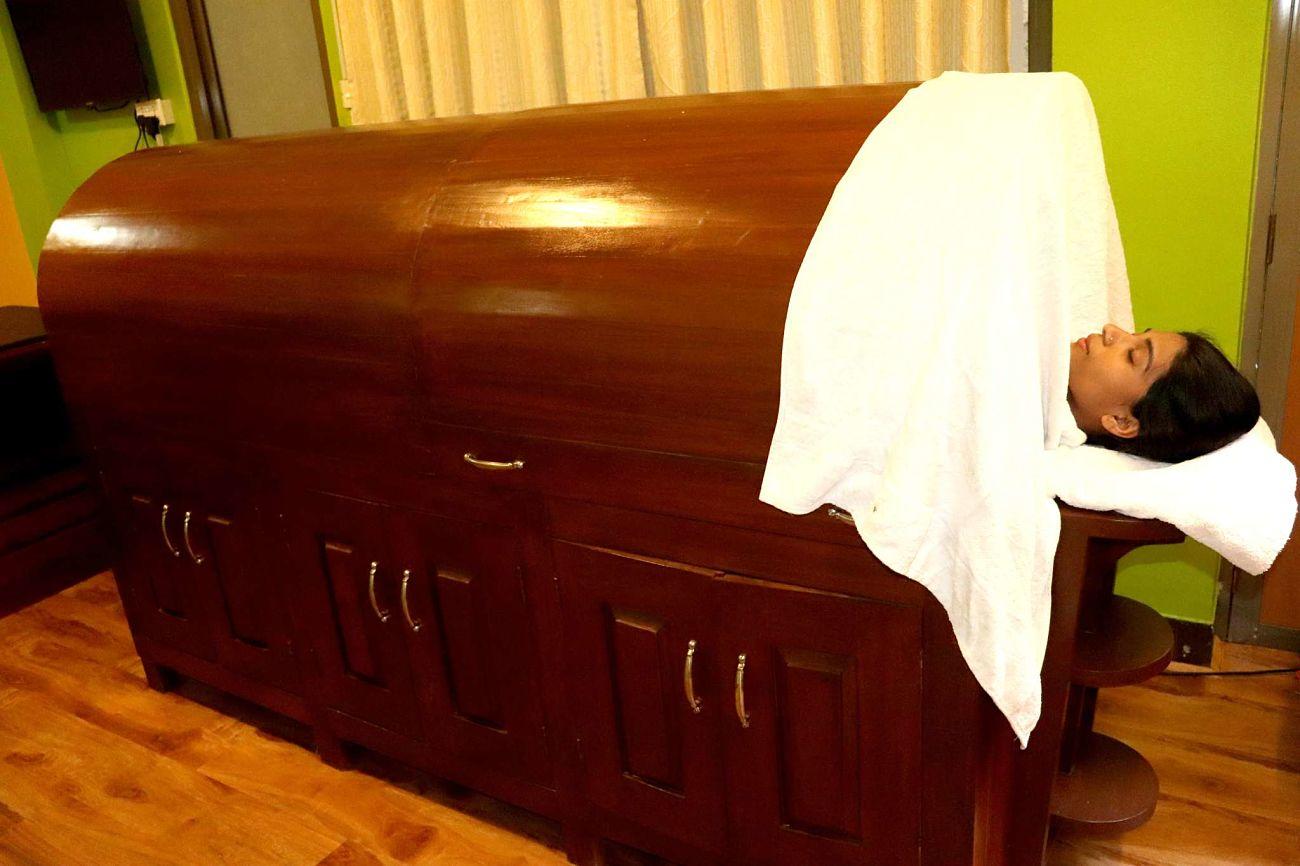 Ayurveda prescribes herbal steam bath for everyone post-Ayurvedic massage. It is done usually – in a traditional sense – to open bodily pores and let the healing oil enter all the nooks and crannies of the body. This herbal oil after entering the body lubricates all the channels of the body and helps in the release of toxins from the body.
Besides, a steam bath helps in releasing muscular tension, lubricating the joints, moisturizing the skin, and combined with other ayurvedic practices (like Vasti) to heal various diseases. Recognizing the positive effect of the herbal steam bath after massage we at Nepal Ayurveda Home offer what is best for you.
Shirodhara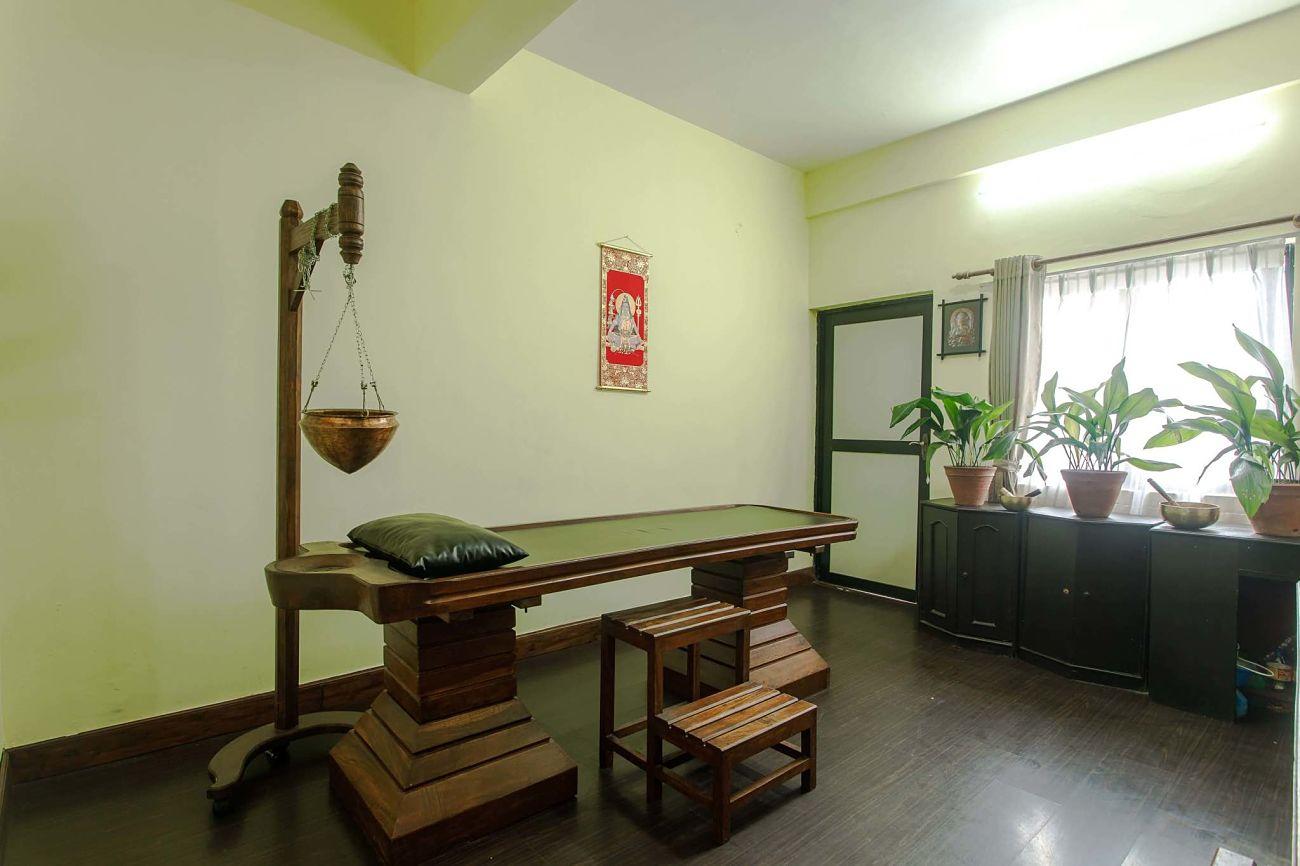 The forehead is the seat of Ajna Chakra, as such any disease or dysfunction of the forehead or head leads to a variety of disorders. Shirodhara is a form of Ayurvedic therapy that involves a continuous pouring of medicated oil, decoction, milk or buttermilk, etc. on the forehead (the seat of Ajna chakra) from a specified height for a specified period in an alternating pendulous rhythm.
Shirodhara reduces anxiety and has a tranquilizing effect on the body. It is also thought to have a stimulating effect on 4s area of the brain – enhancing memory, learning, and behavior.
After the invigorating massage and herbal steam bath 45 minutes to one hour of relaxing Shirodhara will help attain the perfect synergy between the mind and the body. 
Yoga class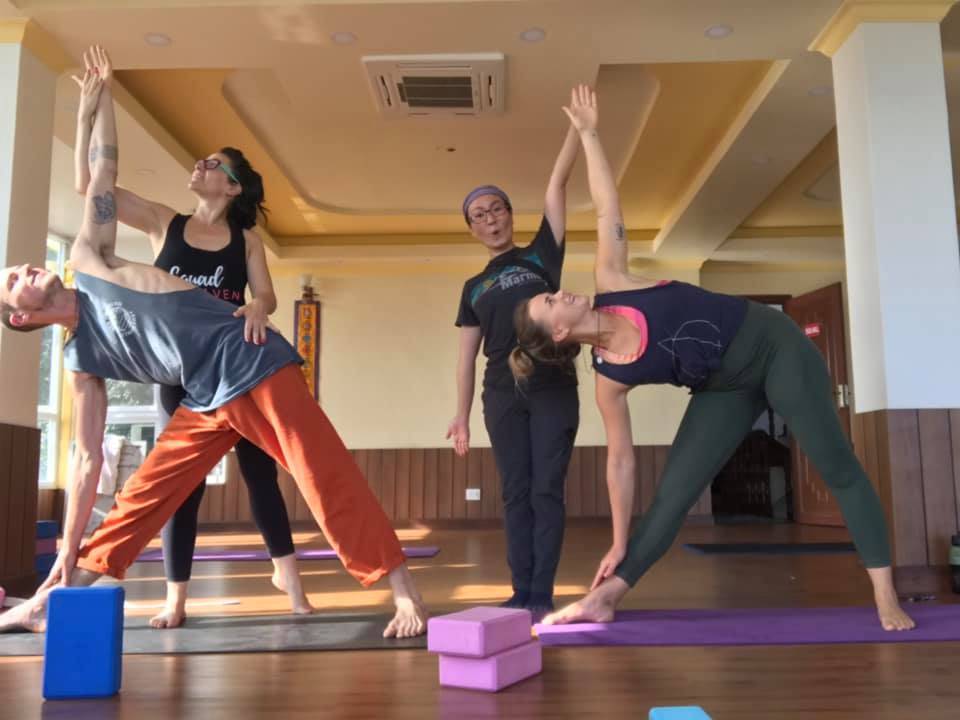 Ayurveda and Yoga are sister sciences. Actually what Ayurveda provides is guidance for yogis on what type and form of yoga should they practice. For example, someone who is of Vata body type should practice a gentle form of yoga (as Yin yoga) which makes them bend forward and increase circulation in their head. Similarly, different yoga types are depending on your body constituency.
At Nepal Ayurveda Home we believe in recreating the tradition. Promoting Yoga as it should be practice – as Stheeram Sukham Asanam – that which enhances your bliss (Sukha) is Asana. Be a part of this individualized approach to yoga exclusively at Nepal Ayurveda Home. 
Lunch

Now after massage people do get hungry and here exclusively at Nepal Ayurveda Home, we've had a fix for your starving belly. Our rooftop restaurants along with top-class food offer an all-round view of Kathmandu valley. Also, we have one of the delicious yoga and healthy food for your lunch.
So, as you are munching through those delicious foods or sipping on Nepalese green tea you can have a cool mountainous breeze flowing through your hair. Let the breeze wash away all the stressors, tensions, and emotional tumult utterly at Nepal Ayurveda Home.
With so much to do in one day, we are sure this day – a single day – will be very eventful. Besides, there is so much to do in Kathmandu before or after you complete your therapy. It is the cultural hub of Nepal.
You can find a cultural admixture like no other as you roam through those trodden yet unexplored streets. And this amalgamation of healing and hailing is made only possible through Nepal Ayurveda Home' "Whole Day Massage and Spa Package at Nepal Ayurveda Home ".
Om shnati! Shanti!! Shanti!!!