One Month Yoga & Ayurveda Retreats in Nepal
---
[ Price: 2000 USD in Twin shared room and 2400 USD in private Room]
---
Welcome, all in our one month Yoga & Ayurveda Retreats in Nepal Ayurveda Home.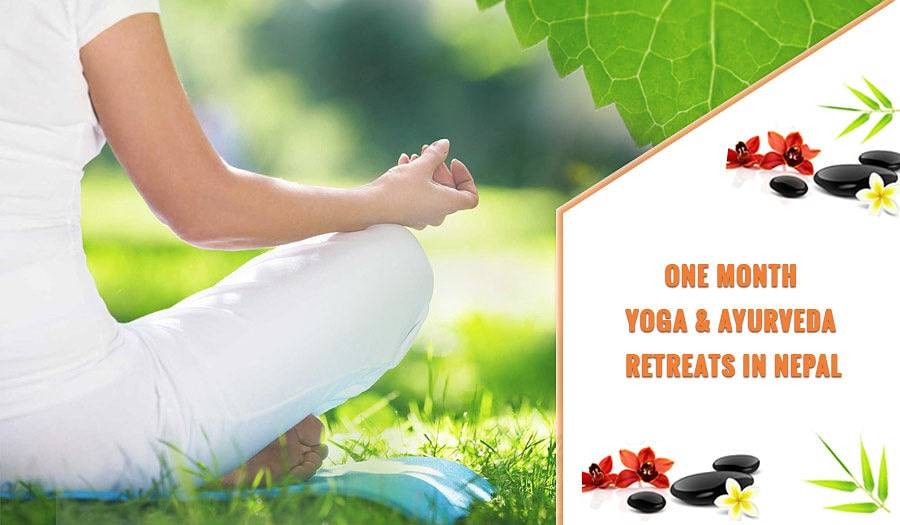 Ayurveda has been a buzz word for practitioners as well as non-practitioners of the alternative healing system in recent years. The reason is not that Ayurveda was recently created or known – the first textbooks of Ayurveda are nearly two millennia old – but because the modern world has been focused on preventing diseases and creating an overall balanced out lifestyle.
Ayurveda is a comprehensive system that answers all your lifestyle-related queries in relation to your body type. Come be a part of this holistic healing experience of Ayurveda through "Four Weeks Ayurveda Retreats in Nepal" at Nepal Ayurveda Home. Experience authentic Ayurveda exclusively at Nepal Ayurveda Home through our retreat course.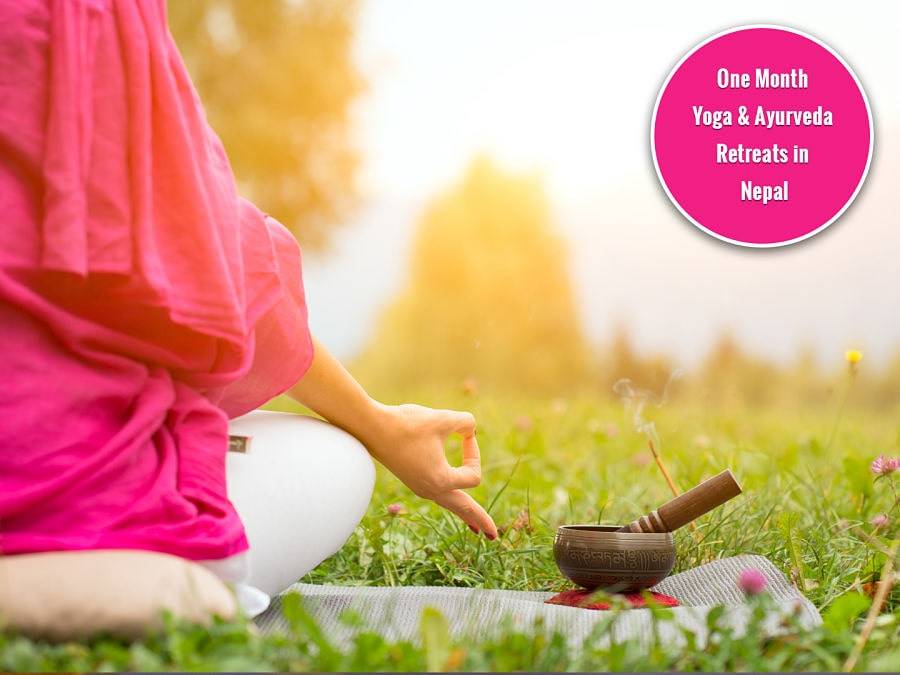 Ayurveda is not a new term. It has been around since the dawn of human civilization. People felt sick, Ayurveda was the way people treated themselves. Each of us in our heart knows a little-bit of Ayurveda. Feeling cold – drink honey with ginger. This might seem like a piece of common knowledge but the philosophy of using Honey during a cold lies deep in the understanding of Ayurveda which we teach in our one month Ayurveda Retreats in Nepal Ayurveda Home.
Usually, cough is caused by the dosha "Kapha", and this dosha is treated using Honey. When we use honey we cure Kapha and ultimately we cure "Cough" as well. At this "Four Week Ayurveda Retreats in Nepal" you will get to learn not only some common home remedies but also what esoteric, accurate and absolute Ayurveda is. Absolute in the sense that Ayurveda rather being a treatment of Symptoms is a treatment that focuses on the whole body – holistic.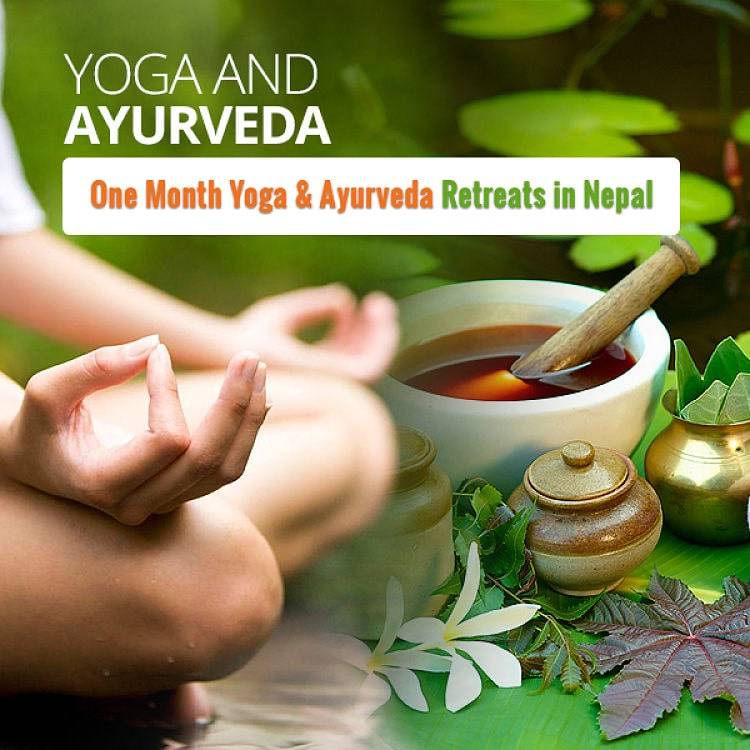 Nepal Ayurveda Home provides a unique experience of Ayurveda Retreats in Nepal. The location is easily accessibleand near to Kathmandu city and you get to experience various Himalaya culture. The traditional herb centers are close by and this adds to the experience of Ayurveda. As you travel through the streets of Thamel, nearby Naradevi and Kilagal you experience a unique five senses stimulation.
The bustle of the city, the waft of the aromas, the tastes of unique Nepalese dishes, and the colors of "Jatras". This is what put Nepal Ayurveda Home above the rest of its competition.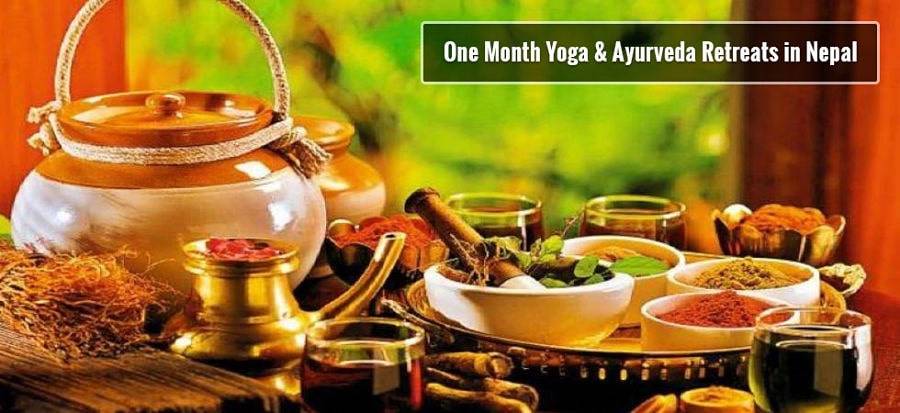 Highlights Of One Month Ayurveda Retreats In Nepal
•    Holistic Ayurvedic practices, doctor, and Ayurveda classes
•    Panchakarma procedure – the Five Ayurveda detoxes
•    Auxillary Ayurvedic procedures – Shirodhara, Svedana, Ayurvedic massages (Abhyanga)
•    Ayurvedic chakra healing
•    Spinal care
•    Authentic Ayurvedic meals cooked according to your body type
•    Yoga, pranayama and meditation practices according to your body type
•    Ayurvedic tea
•    Ayurvedic herbalism
•   Four-week accommodation – that can be extended
•    Daily mantra recitations and energetic vibration
•    Located at the heart of Kathmandu city
Curriculum Of 1 Month Ayurveda Retreats in Nepal
Nepal Ayurveda Home is a place for complete Ayurvedic medicine and lifestyle care. Be a part of this Ayurvedic family in a place which you can call your second home.
1. Ayurvedic Doctor Consultation
Nepal Ayurveda Home guarantees authentic Ayurveda. Beginning from the consultation with our in-house doctor, you will be guided through the various procedures depending on your Ayurvedic body constituency. Know about chakras, doshas, and Prakriti from the practitioner of the immaculate art of Ayurveda. A bit of good advice is worth more than any form of medicine.
2. Determining Your Body Constituency
Pulse, questionnaires, and examinations these are the basic methods through which a doctor can find out your Ayurvedic constituency. This Ayurveda retreats in Nepal help us to determine then guides us on a path of holistic healing. The food you should be eating, the lifestyle you should be living and the supplements you should be taking all depends on the knowledge of the body constituency. This is an Ayurvedic system towards personalized medicine and the combinations of various colors – lifestyle, diet, therapies – guided by this concept creates an "Ayurvedic" art that heals all the infirmities.
3. Ayurvedic Massage – Abhyanga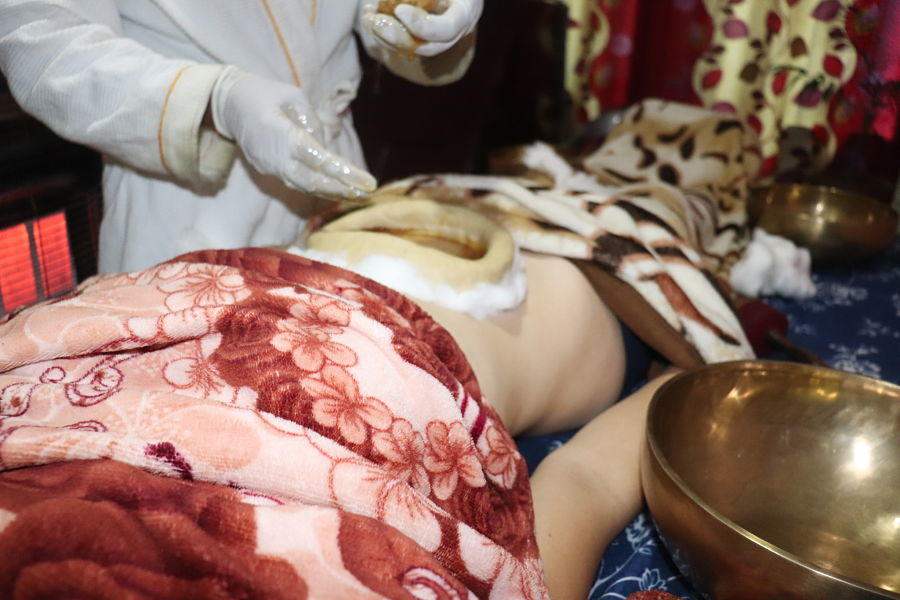 A massage is to the body as what mantra is to your mind. Massage done correctly creates a wonderful euphoria in the body. Massages that we prescribe comes from the roots of Ayurveda – the marma therapy. Marma is the energetic centers in the body, as such proper touch and proper massage can lead to a more vitalized and energized sensation right down to your soul. Marma massage is unique to Nepal Ayurveda Home, and being involved in this 1 Month Ayurveda retreats in Nepal creates a segue to get yourself fully cleansed.
4. Panchakarma Procedure
The detox procedures that Ayurveda has described are five in number. Conveniently, they are named as "Panchakarma" or five actions. These procedures begin with the heartening of your digestive fire. This procedure is known as "Purva-karma" or the "Pre-detox". In this, we are getting your body ready for the detox procedure. Ayurveda is unique in the sense that there is a "pre-detox" and a "post-detox". This synchronization of "pre", "main" and "post" creates euphoria in the body and your body gets holistically healed.
Three basic panchakarma techniques – Vamana (medical emesis), Virechana (medical purgation), and Vasti (enema) – is included in this "four weeks Ayurveda retreats in Nepal" and this guarantees you get the utmost, viable and accurate therapeutic benefits of Ayurveda. Also included in panchakarma is the procedure of Nasya (enrrhines) which cleanses the head. When administered to completion the effects on the body are miraculous. This offers a complete rejuvenation and healing with the added benefit of this being a completely natural process.
5. Chakra Healing According To Ayurveda
The Ayurvedic chakra healing revolves around the use of essential oil and vasti. The Ayurvedic oil "Mahanarayana tail" is a mixture of over fifty herbs and these herbs act to nurture you and your chakra back to health and balance. Chakra healing is the usage of this oil in various chakra location and using singing bowls in various notes to activates the respective site. Get your chakra energized, empowered and electrified at this "Four weeks Ayurveda retreats in Nepal" at Nepal Ayurveda Home.
6. Spinal Care Package
Have a busted spinal disc? Have a back pain that doesn't go away? Feeling buggered with constant back, or neck pain? The answer might lie in Ayurveda. At Nepal Ayurveda Home we provide various therapeutic procedures like "Patra Pinda Sveda", "Baluka Sveda", "Nasya", and "Kati and Greeva vasti" that will build the lubrication between the joints of your back, provides relief to stiffness and pain caused by this. Why relieve your pain by using pain killers when you can do this naturally and avoid the unwanted side effects of those pain meds.
7. Dincharya – Daily Regimen According To Your Body Type
Dincharya is an "esoteric" term coined in the books of Ayurveda. Dincharya deals with how you live your day to day life in accordance with the laws of nature. This agglomeration of rules about daily life, what you should eat, what you should eat to live on at optimum and optimized health is called "dincharya". In this Ayurveda retreats in Nepal, we provides you the base for conducting your life in an integrated manner and this too without having major implications in the life that you are living now.
Food During Ayurveda Retreats in Nepal
Ayurvedic Herbalism
Did you know that Vata tea should contain more of heating spices? Did you know that spices can cool your body thus benefiting pitta people? No!!! At Nepal Ayurveda Home we provide tips, tricks, and teas that are in line with the principle of Ayurveda. We believe that the healing should begin from the kitchen, and what better than Ayurvedic food and Ayurvedic spices to fill and heal your daily life.
We are few Kilometers from Naradevi and Kilagal which is home for Traditional healers and Ayurveda experts. You can trail through these ancient streets experience the full awakening of all your senses. Nepal lies in the proximity of the Himalayas, which according to Ayurveda is the best place for potent herbs.
Yoga, Pranayama, and Meditative Practices 
In this day and age of instant results, Yoga came in as a key for treatment of the soul, body and the mind. However, if a newbie turns a yoga book, he/she will find pages upon pages of daunting poses and practices. At Nepal Ayurveda Home, we guide you through specific yoga poses that are good for your body, time and are manageable to be implemented in your every day to day life, ensuring health and longevity – the ultimate promise of Yoga.
At Nepal Ayurveda Home you not only get the ways around Ayurvedic retreat and herbalism but also a place where you can receive the most care, lovingness, and attention to details. Our doctors, staffs, and cooks ensure that what you receive is class apart and is of the highest standards.